Two to Three's Room
In this room, we help children to build on their ever-increasing independence. They have their own bathroom area where we can assist with toilet training. In this room, we find that many children are starting to dress themselves and showing increased ability with eating. Our dedicated staff are always on-hand to help them with their learning and self-esteem.
The children in this room have a range of facilities including:
Role-play area and home corner where they can act out different roles they see in their home life and community helping them make sense of the world.
Large construction toys which help to stretch the children's creative imagination, literacy, and hands-on learning of maths, physics and design. We encourage construction to develop fine motor skills and problem-solving qualities.
Water and sand to foster creativity and fine motor skills.
A reading area to facilitate the children's love of words and vocabulary.
A dedicated garden area where the children can practise their large motor skills.
Our Ofsted Review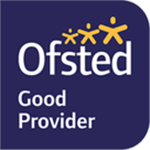 All children progress well in their learning and development. The nursery team effectively monitors their progress and identifies their next steps of learning.
Apply now
Nothing is more important than your child's wellbeing. We provide a caring and stimulating environment in which your child will flourish.